features
About Torchshare
Torchshare is all about positivity and enabling your own fulfilment in life by achieving the dreams of others
We created Torchshare
so that no Life Story is lost to history,
so that every life is celebrated,
so that your loved one's legacy can continue to make a positive contribution to the world they left behind,
Whether it be something as simple as organising a get together in your loved one's memory or  help reach out to blood donors, volunteers or carers in your local area, Torchshare is there  to enable you do it.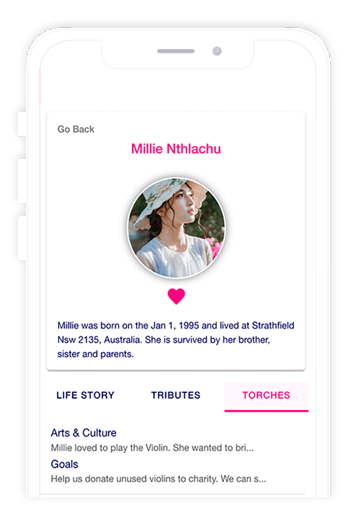 NO LIFE SHOULD BE LOST TO HISTORY
Look up any life story created anywhere in the world.
Create the life story of your loved one.
CELEBRATE LIFE
Pay tribute to someone you knew to celebrate and honour their life.
BUILDING COMMUNITIES
Help others realise their dreams or the dreams of their loved ones.
Involve others to realise the dreams of your own loved one.

Positivity
OUR DIFFERENCE IS POSITIVITY
Continue Their Legacy
Torchshare's most defining feature is that it allows a user to Join or create a Torch. In the App's context, a Torch represents a cause that your loved one was passionate about or a project you wish to join or begin in the memory of a loved one. Torch creators indicate a Torch's relevance and specify the goals they want to achieve. Other Torchshare users can then come together and form a community around a Torch to help achieve its goals. This will not only keep the memory of a loved one alive, but also contribute to a sense of fullfilment for you as well as the community.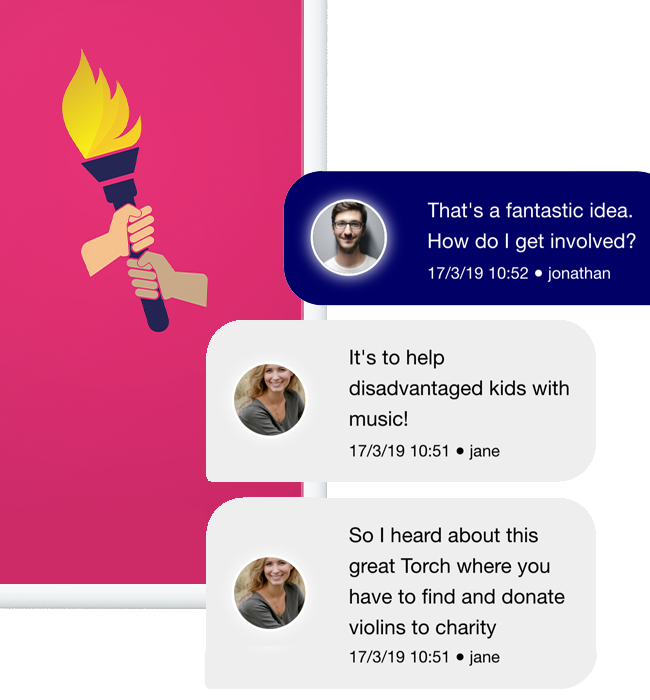 Deep Dive
Torchshare Features
We use the latest technology to give you location based information for connecting with any other Torchshare user
Location Based Information
Life Stories and Torches near you current location are displayed distinctly. You can search for others anywhere in the world.
Connect With Friends
Connect with other Torchshare users through our customised messenger service to share memories and tributes of your loved ones as well as to realise their dreams.
Notifications
Get notified when your friends pay tribute to Life Stories created by you or when others want to help you realise a Torch.
Control
You control what goes into the Life Story of your loved one. Keep the tributes you want and control who joins your Torches.
Life Stories
Every Life is unique and meaningful. A Life Story lets you chronicle your loved one's life and times as well as create their own place in history.
Tributes
Celebrate your loved one's life. Torchshare allows family and friends of a loved one to easily share and record stories, memories and pay their tributes to a loved one
Community
Torchshare endeavours to align personal humanitarian goals with community goals for the betterment of society. Whether it is in assisting blood banks to reach relevant nearby donors during urgent need or bringing together volunteers with those who need them, Torchshare can make it possible with its location based technology.
Technology
Torchshare uses the latest progressive web app (PWA) technology, which means that it installs on your phone like an app, but it doesn't require the app stores or lengthy downloads. Of course, it also works like a normal desktop website!
define
HOW IT WORKS?
Torchshare is FREE
Get going in 3 easy steps
Create Your Account, it's free
Start by creating an account on Torchshare to put your name to the amazing things you are about to do.
Create A Life Story
Next create the Life Story of a loved one you wish to share or search and find the Life Story of a loved one already on Torchshare. Read their Life Story, share your memories or pay your tribute
Join or Create a Torch
Join the community of an existing Torch in the area of interest of your loved one and get the satisfaction of helping someone realise their dreams. Or, if you do not find a relevant existing Torch, create your own Torch.
Watch Trailer
VIDEO
Watch our videos to learn more about Torchshare
Contact
CONTACT US
Get In Touch